Pst. Emeka Egwuchukwu - September 18, 2022
Embodying the Conversation of Everlasting Life Pt.3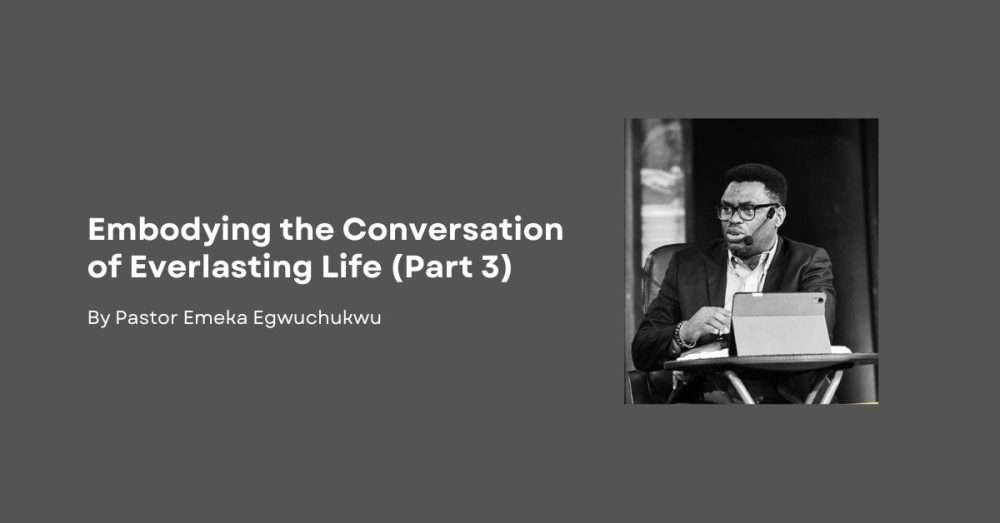 When teachings come to us, it is with the intent that we turn until we fully embody the life of those words. This is how we trap conversations Embodying the conversations of zion is to the end that we are taken. Enoch embodied conversations until Eternal life took him. Eternal life is waiting to take many of us.
Related Topics: Everlasting Life | More Messages from Pst. Emeka Egwuchukwu | Download Audio
From Category: "Sunday Message"
More From "Sunday Message"
Heart circumcision: A Requirement for Entrance into Everlasting Life

Pst. Emeka Egwuchukwu

- April 24, 2022

Understanding the Operations of Mercy

Rev. Kayode Oyegoke

- June 5, 2022

The Prosperity of the Spirit of the Father

Rev. Kayode Oyegoke

- June 19, 2022

The Making of a Spiritual Man

Pst. Emeka Egwuchukwu

- June 26, 2022

Living by the Judgement of Everlasting Righteousness

Pst. Emeka Egwuchukwu

- July 3, 2022

Understanding the Operations of the Seals

Pst. Emeka Egwuchukwu

- July 10, 2022

Holding Fast the Judgement of Everlasting Life

Pst. Lilian Egwuchukwu

- July 17, 2022

Holding Fast the Judgement of Everlasting Life

Pst. Lilian Egwuchukwu

- July 17, 2022

Looking Up Unto Jesus

Pst. Tayo Fasan

- July 24, 2022

Heart Preparation for Receiving the Economy of God

Pst. Emeka Egwuchukwu

- July 31, 2022

Embodying the Conversation of Everlasting Life

Pst. Emeka Egwuchukwu

- August 28, 2022

Embodying the Conversation of Zion ​

Pst. Emeka Egwuchukwu

- September 4, 2022

Embodying the Conversation of Zion ​Pt.2

Pst. Emeka Egwuchukwu

- September 11, 2022

Embodying the Conversation of Everlasting Life Pt.3

Pst. Emeka Egwuchukwu

- September 18, 2022

Sensitivity to the Holy Spirit

Pst. Lilian Egwuchukwu

- September 25, 2022

Embodying the Conversation of Everlasting Life

Pst. Emeka Egwuchukwu

- October 9, 2022

Subjective Leadings of the Spirit of God (Pt. 2)

Pst. Tope Falaye

- October 9, 2022

Accessing the Realms of Glory

Rev. Kayode Oyegoke

- October 16, 2022

Accessing the Realms of Glory (Pt. 2)

Rev. Kayode Oyegoke

- October 23, 2022

Embodying the Conversations of Everlasting Life: Understanding the Workings of Grace

Pst. Emeka Egwuchukwu

- October 30, 2022

Embodying the Conversation of Everlasting Life (Part 6): X-Raying the Days of Noah

Pst. Emeka Egwuchukwu

- November 6, 2022

Understanding the Process of Nature Formation

Pst. Emeka Egwuchukwu

- November 13, 2022

Dwelling in Love and Unity

Pst. Lilian Egwuchukwu

- November 20, 2022

Heart Preparation for Thanksgiving

Pst. Emeka Egwuchukwu

- November 27, 2022

The Right Attitude Towards Christmas Celebration

Pst. Emeka Egwuchukwu

- December 25, 2022

Warring to Enter Glory

Pst. Tope Falaye

- January 8, 2023

Understanding the Demands of Glory

Pst. Lilian Egwuchukwu

- January 15, 2023

Obedience: The Sacrifice of the New Testament

Pst. Emeka Egwuchukwu

- January 22, 2023

Receiving the Grace that Should Come Unto Us

Rev. Kayode Oyegoke

- February 5, 2023

Obedience the Sacrifice of the New Testament (Part 2)

Pst. Emeka Egwuchukwu

- February 12, 2023

Obedience of Faith Among All Nations

Pst. Emeka Egwuchukwu

- February 26, 2023

Growth: The Burden and Cry of the Spirit

Pst. Lilian Egwuchukwu

- March 5, 2023

Preparation for Entrance into the World of the Living God

Pst. Emeka Egwuchukwu

- March 12, 2023

Wisdom for Spiritual and Physical Wellbeing

Pst. Lilian Egwuchukwu

- March 26, 2023

Everlasting Life: The Unveiling of the Fatherhood of God

Pst. Emeka Egwuchukwu

- April 2, 2023

The Hope of the Gospel of Resurrection

Pst. Tope Falaye

- April 9, 2023

Living by the Power of Resurrection

Pst. Tunji Adegoke

- April 16, 2023

Living by the Power of Resurrection (Part 2)

Pst. Tunji Adegoke

- April 23, 2023

Fulfilling the Obedience of Faith

Pst. Emeka Egwuchukwu

- April 30, 2023

Understanding the Potency of the Life of Christ

Pst. Tope Falaye

- June 11, 2023