The Life of Faith: A tool for Overcoming Fear
All that the Lord did from the beginning of his ministry to the end of His ministry was to ensure that the Father was made manifest. The disciples had been with Him for a long time but had not known his essence "Philip saith unto him, Lord, show us the Father, and it sufficeth us".(John 14:8). This happens to us likewise, many have been born again for a long time in their lives but have not known the mystery of Christ, much more, the mystery of the Father.
No one can get to the fullness of the Godhead bodily without unraveling the mystery of the Father. It takes a lot to raise a Christ company. It is an honour that has been bestowed to us to be a flock of this sheepfold. For as many as have the knowledge of the life that constitutes Chriist are the sheep of God (Rom 8:1). This knowledge soon transits to become a law. Those complete warehouses of this knowledge, that is when the knowledge has been captured in full, such that it is synchronized, it makes up a law.
Faith, Hope and Charity are laws. Together, they make up the law of Christ. Faith on its own is not a complete law, it has to be synchronized till it accumulates in Charity to become a law. It is only then that it can fully conquer the law of sin. A believer that has the law of Christ will also be able to give life. It is necessary to have this law because it is what will deal with the knowledge of sin and death. It goes without saying that to disarm a law, you have to introduce a more superior law.
There is something about the season of life that is upon us because if Jesus Christ at the end of His ministry cried "Abba Father". It means that we are to undergo a birth process that makes us eligible to cry "Abba Father", which is to be birthed as sons. The sanctuary which in this context means Christ is meant to deliver us from a wrong law and give us the capacity to become sons (Gal. 4:5-6).
There are things we do and don't do because of Fear. Most times we do not respond to the witness of our spirit because faith is not yet a law in our souls. Faith gives an energy to depend on what is written. It helps a soul push back fears resulting from carnality in the soul to a great degree. Faith disarms carnal fears. The conversation of faith is evident in how we live. It is the substance that gives one strength to live not knowing what next.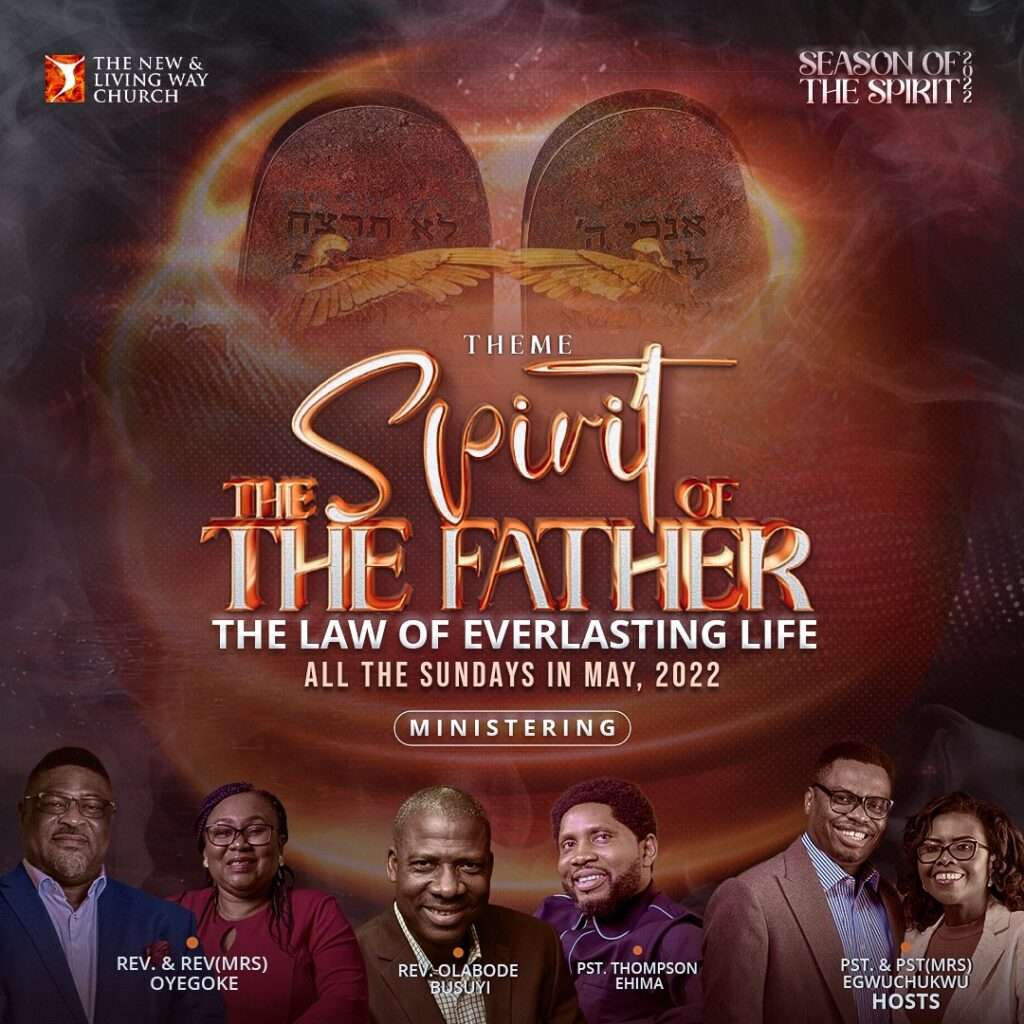 The speakings of the Spirit of the father gained momentum in 2015. When Pastor Tayo Fasan (The preacher) and Pastor Moses Omokhafe left the working environment not knowing what next. Trials can be used to arrange and align knowledge in us so that such knowledge becomes a law. In Hebrews 11, faith was used to deal with fears in a season. In another season, in the time of the most holy, a kind of most holy faith (Jude 1:20) had to be used because they were dealing with the almighty. Faith combats fear.
"Hereafter I will not talk much with you: for the prince of this world cometh, and hath nothing in me" (John 14:30). It took Jesus the utmost fear of the Lord to overcome the world. This is why when satan tempted Him, he found nothing in Him. John the Baptist while in prison was not delivered, not because there was no capacity to but because there was an everlasting righteousness that kept John there. Jesus had the capacity to deliver John but did not because the Father had not commanded Him to. Satan putting John in prison was a temptation to Jesus, John was expectant of this delivery but Jesus had to die and depend only on what God gave as instruction.
John was offended because Jesus did not deliver him, this was as a result of what John saw as life. This shows us why even the best of men could only receive a good report because what the Father calls life is different. Whenever God is not responding to a particular prayer, know that the Lord is delivering from unknown fear, God will permit it. This is why John said in John 3:27 "John answered and said, a man can receive nothing, except it be given him from heaven".Satan is only running errands to bring redemption to the souls of men. As long as we have not ventured into the unknown, we can not be free of some unknown fears. Unknown fears are the regions where Satan can still wield.
Job 42:5:
"I have heard of thee by the hearing of the ear: but now mine eye seeth thee."
There was something that made Jesus commit himself wholly to Him that judgeth righteously (1 Peter 2:23). Jesus had no one to impress but the Father. What makes one a servant is to serve without a sense of entitlement. David is another bible character whose fears needed to be exposed for him to run back to the Lord and make the Lord his defense (Psalm 94:22).
If you are not profiting with the seasons of time, it is because there is a lack of response to a dealing. The life of a believer is cascaded with trials, it is either you are going through a season of trial, coming out of one or preparing for one. This is because our faith has to be tried (1 Peter 1:7). When you have profited with a dealing another will be arranged because dealings are God's salvation program for our souls.

Jesus journeyed to the place where He found no fear. It means at this point He loved not His life and He had been qualified for sealing. Jesus was always under pressure to hear from the Father because He needed those words to overcome. During the season of trials we grow more than in seasons of comfort because we live more on words.
There is so much rain knowledge as many waters abound in us that we should profit with especially in this season. You do not know the commandment that you will keep that will cause you to cross from Christ life to everlasting life. We should be careful to keep every commandment that the Lord brings to our awareness.
May the Lord bring those dealings that will bring us to a point of comfort where we cry 'Abba Father" and then are permitted into the everlasting realm of the Lord. (Amen)
Message Ends.

Read also: Understanding Our Birth Process into the Father